Center for Research in Regional Economics and Economic Policy (CERPE)
The Center for Research in Regional Economics and Economic Policy (CERPE) studies issues of primary interest that pertain to regional economic analysis and economic policy. The center's areas of expertise are anchored in spatial and regional economics, inter-regional and international economics, industrial and competition economics, labour and personnel economics, entrepreneurship and innovation economics, public economics and public finance. In line with CERPE's mission, the conducted research combines both theoretical and applied work, with a particular focus on Wallonia within the Belgian institutional landscape.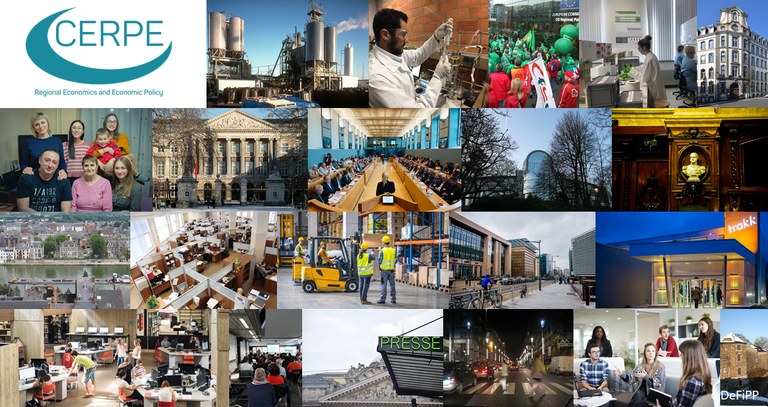 CERPE researchers (7 permanent academic researchers and 10 to 15 scientific members and Ph.D. students) regularly report on their research's results in major international (e.g. ERSA, EARIE, INFER and the European Trade Study Group) and national conferences (e.g. Belgian Congrès des Économistes), as well as in specialized workshops (e.g. CEPR, IZA, ZEW, European Commission, ECFED and BURENet). They also commonly share and discuss their findings in political, economic and social circles.
CERPE's funding mainly comes from scientific, institutional and public sources. The Chair of Excellence for Research and Expertise in Entrepreneurship (CHEREE), which is linked to CERPE, is also funded by sponsorship. Research carried out at CERPE leads to publications in both general and specialized scientific journals (e.g. Journal of International Economics, Journal of Public Economics, Journal of Public Economic Theory, Economics Letters, Economic Inquiry, International Economics and Economic Policy, and PLOS ONE). Insights are also delivered to a wider audience by means of traditional media channels.
CERPE's current research themes
Cost of capital, effective taxation and investment.
Labour and employment policy.
Fiscal federalism and public finance with regard to the federal, regional and community levels.
Economic relations and regional dynamics, linked to entrepreneurship and innovation.